Dear Parents,
We are thrilled to announce that registration for the 2023 - 2024 school year at Chabad Pico Learning Center (CPLC) is now open for the Fall semester. We are honored that you are considering CPLC for your child's education.
Once you are ready to register your child, select the "Register Now" option on the website, complete and submit the registration form, along with uploading all necessary forms and the registration fee of $100.00, by June 21 (after which the fee increases to $600.00). Payments can be made to CHABAD PICO LEARNING CENTER via Zelle at administration@baisbezalel.org.
For the 2023 - 2024 school year, student tuition is $18,000.00, which can be paid in full by check or credit card or split into quarterly or monthly payments. If you are requesting a tuition scholarship, please submit your request before June 21.
CPLC is not a school. Taking classes with us does not satisfy compulsory education laws in California. To be in compliance with state laws all children who turn six years old prior to September 1 of any school year must be enrolled in a California public or private school.
Families can choose to file the private school affidavit (PSA), join a Private School Satellite Program (PSP), or enroll in an independent study public charter school.
We are not affiliated or an approved vendor with any public charter school but we have heard good things about Suncoast Preparatory Academy, Sky Mountain, Golden Valley Charter School, and Blue Ridge Academy.
Note that scholarship requests after June 21 will not be processed until December 1, 2023. Full tuition payments must be remitted until a scholarship is awarded. All tuition payments must be arranged prior to the start of the school year.
If you would like to apply for a tuition stipend, please visit yadmenachem.com.
We appreciate your interest in joining the Chabad Pico Learning Center family. If you have any questions or concerns, please don't hesitate to contact us. We are excited to partner with you.
Sincerely,
Rabbi Moshe Levin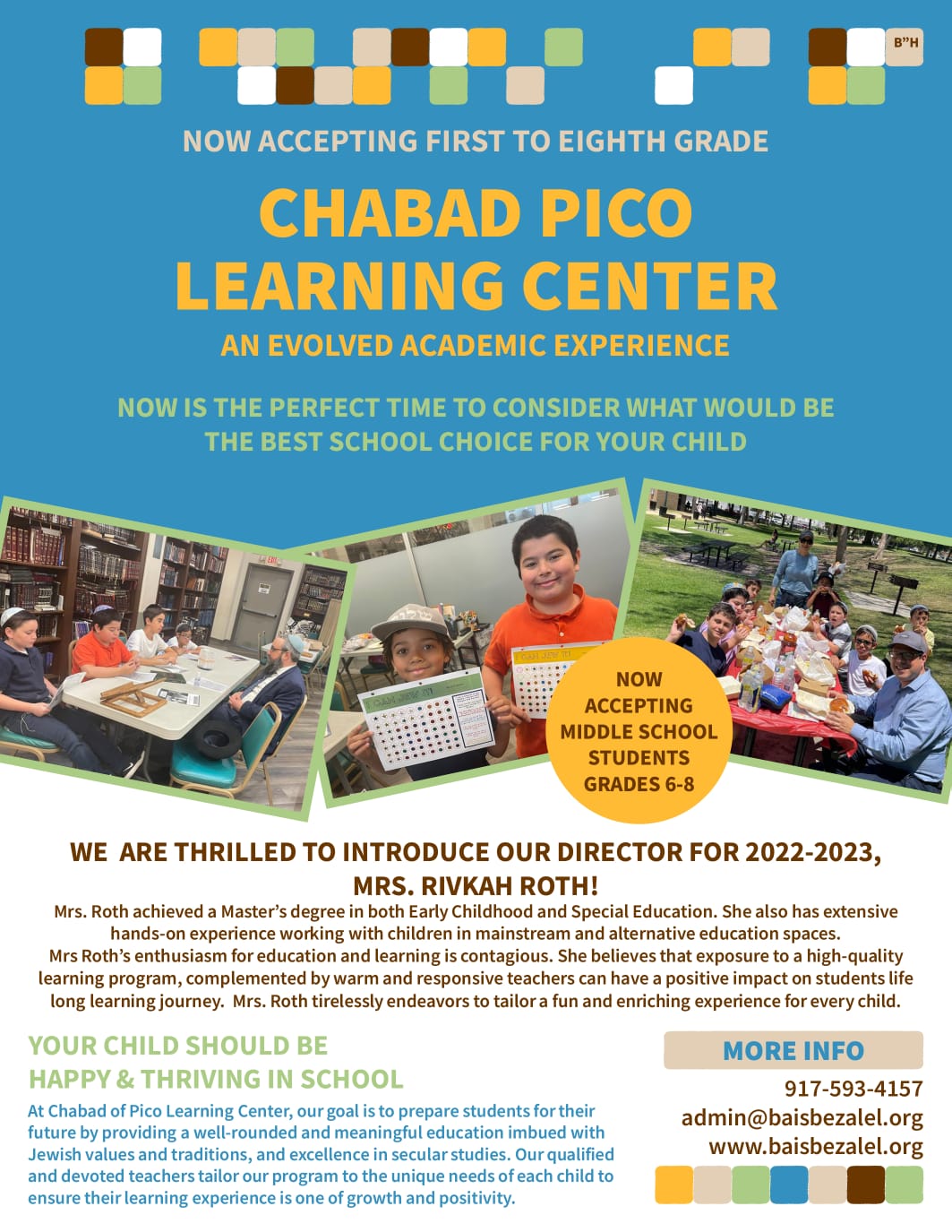 Chabad Pico Learning Center